At Sackhumvit centre we engage students in various kinds of activities including art and craft. These activities involve moving hands and fingers to develop artistic skills. children love these activities amongst din and chatter which also gives them an opportunity to express their feelings in a meaningful, tangible and positive way. They also deri...
team building & time management workshop - 2018
The 10th std students reaped a huge benefit by exposing themselves to improved productivity increased motivation and collective collaboration. The Trust conducted workshops & the students of 10th enjoyed the experience & strengthened their relationships with their peers & others & also addressed their weaknesses.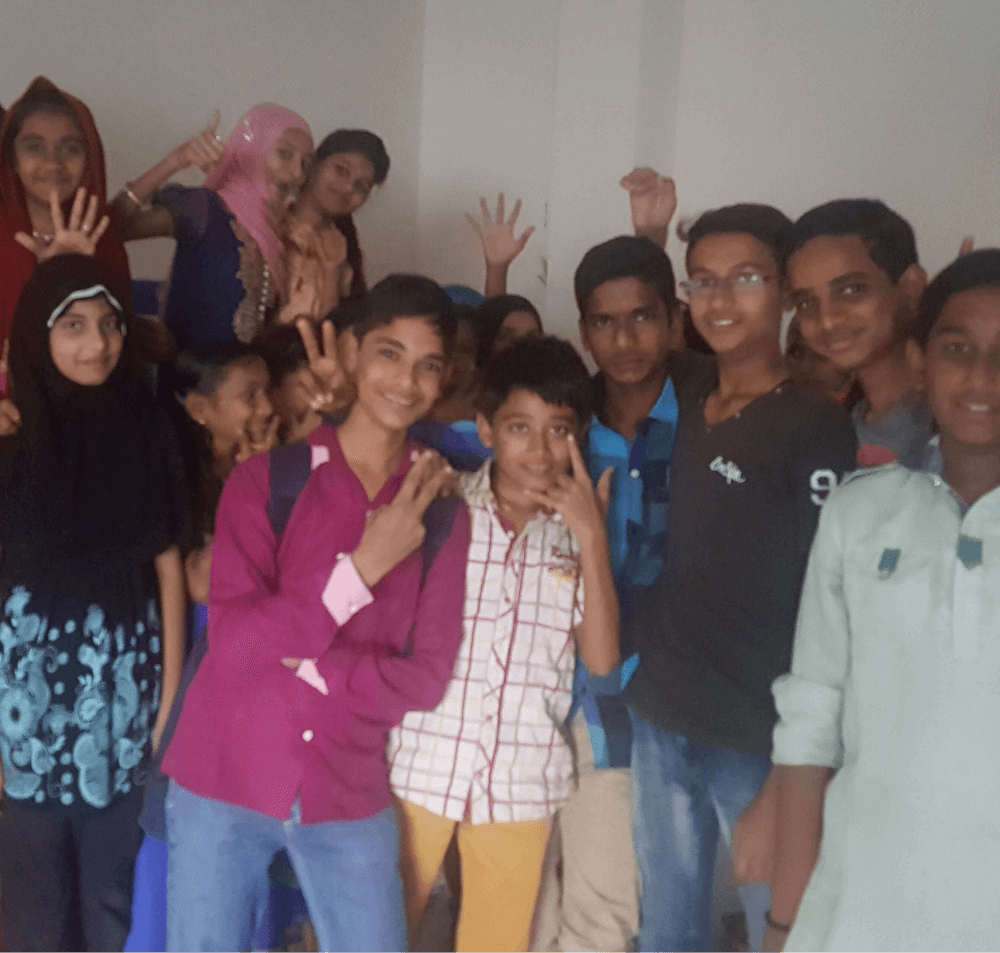 The children at Sackhumvit centre, Chamundinagar, Bengaluru put up a surprise show for the teachers for children's day. The students had been secretly rehearsing for the same and it was a total surprise for all of us at the centre We were completely unaware of their plans. There where speeches, dance and some jokes and a poem too. They were two com...
Our Chamundinagar centre conducts regularly public speaking classes. This helps students overcome nerves with regard to stage fright. The students also learn how to engage with the audience and manage good body language and try out new ways to enhance student life. We now have a bunch of enthusiastic children who are not afraid to speak their minds...
The children of Chamundinagar centre had a whale of a time with corporate trainer Sajani Dani. Sajani has three post graduate degrees - an M.A in Linguistics as well as Philosophy and an MBA in Human Resource Development. She is a certified trainer for Neuro Linguistic Programming and as a trainer\facilitator she can instantly create a rapport with...
Sackhumvit Trust, Chamundinagar organised a magic show as a farewell treat to the children year ending 2017-2018. The children loved the show. It was so good that the adults also had a great time. Mohammad Idris the magician made a surprise entry dressed up as a clown. He did some amazing tricks which was interactive and fun filled. The children h...
star designers - 2018
The students at the centre are undergoing structured adobe design classes. The foundation course introduces key concepts needed to begin their exploration of the software. The children can use their skills in creating independant projects by using their creative ideas and skills in terms of colour and art work.
examination tips by mr. kishan . n
Mr. Kishan (ex- IIT, IIM) couselled the children on how to prepare for examination and reduce anxiety. He stressed the importance of studying efficiently, preparing well in advance for the final examinations & the power of positive thinking on examination outcome.
career counselling - 2018
Mr. Srikanth ex-IIT, IIM kolkatta, conducted career counselling session at Sackhumvit centre Bengaluru. The session was interactive and the emphasis was to guide children understand the world of work, education and life decisions.
"Not everything that counts can be counted. And not everything that can be counted counts" - Albert Einstein Volunteering is about giving, contributing and helping other individuals and community at large. It is working with others to make a meaningful contribution to a better community. We invite you at Sackhumvit centre to join hands with us and...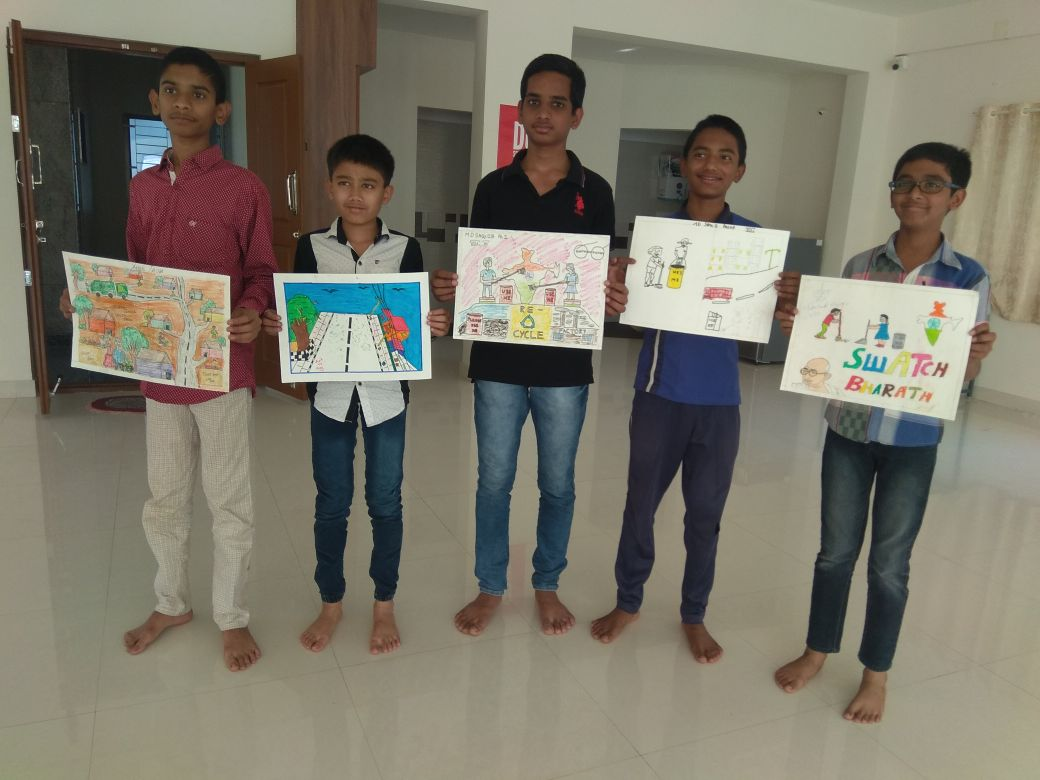 swach bharat painting competition - 2018
Sackhumvit Trust Chamundinagar conducted an awareness campaign on "keep your neighbourhood clean'. There was active participation with great fevour & joy. The painting competition was organised at the Trust premise to motivate children to participate in this campaign.
t-shirt distribution - 2018
Sackhumvit centre has been working for the welfare of the society for the last 27years. We have now addedd a feather in our cap by distributing t-shrts with our logo to approximately 200 plus students who are under the tutorial scheme at Chamundinagar Bengaluru. Over 200 t-shirts were distributed to the under previliged students of CMNR Bengaluru.
In collaboration with Centre for child development (ccdd), a paediatric camp was organised for children in the age group of 0-5years. Children were evaluated for milestones in the neuro development area. A specialised group of friendly doctors evaluated milestone and developmental challenges for over 50 children. Follow up camps are planned to help...
Sackhumvit trust supports SS foundation old age home by providing food, clothing, medicines and other toiletries on an ongoing process. Our trustee Mrs. Viji Hashim visited the old age home on 29th May 2018 and distributed petticoats, coconut oil, towels and toiletries distributed to the residents. A special lunch was also organised on the same day...
counselling sessions at cmnr - 2018
Its been a very productive start to the academic year 2018 - 2019. The centre now boasts of a counsellor to resolve problematic behaviour beliefs, feelings and relationship issues. The centre realises the importance of counselling, so that the students have increased confidence and better decision making skills.
The students of Chamundinagar centre bid adieu to 2017 in great style. Special guests Adiba, Harry and Rizwan, family of the Trustees Mr and Mrs. Khalid visited the centre and spent the entire afternoon with interacting with students.. Needless to say the children were delighted and put a wonderful performance of song, dance and speeches. The child...
On September 16th 2017, Akshata, a young practising lawyer volunteering at Sackhumvit Centre did a drill on activities that enhance spoken English. This exercise was for the 8th graders. The activity chosen was simple, easy to understand and interactive. Using lots of words that students don't recognize especially the government school children ...
The computer classes commenced at Chamundinagar, Bengaluru and the children were introduced to the nature and scope of the digital world. A whole new world of research and digital education opened up for the entire class. We hope this interface makes the children proactive, responsive and creative. Introduction to photoshop and editing is being ta...
creative enrichment programs at chamundinagar, bengaluru
Our Chamundinagar centre in Bengaluru introduced student enrichment programs in the form of Jigsaw puizzles and aircraft model making. Every student is expected to do one or more of these creative exercises. Needless to say, learning through such creative methods gave the children a new experience in working with teams and skill building.
Sackhumvit Trust in collaboration with Rotary club of RT Nagar together organized a free one day eye testing camp for the underprivileged adults and school children at Sackhumvit Centre, Chamundinagar, Bengaluru on 22nd of November 2017. Eye care technicians from Sankara Eye Hospital screened more than 124 adults and children during the one day ...
Talk on Peer Pressure by Dr. Soudhamini Psychiatrist (MRCP) Peers influence your life, even if you dont realize it, just by spending time with you. you learn from them and they learn from you. it's only human nature to listen to and learn from other people in your age group. Peers can have a positive and negative influence on each other. Dr.Soudham...
Independence Day Celebrations HMK Public School celebrated Independence Day on 15 th August by hoisting the National Flag and singing of the National Anthem and other patriotic songs. Homage was paid to freedom fighters who sacrificed their lives for the liberation of India.The celebrations were followed by a colorful cultural programme Activities ...
Mr. Khalid, Managing Trustee, Sackhumvit Trust visited Chamundinagar centre in October 2017. The children put up an incredible show consisting of speeches and skits. The topics were "What I wish to be", "Life of a chef", "Thinking out of the box" and "The importance of reading". The children are making incredible progress at the Chamundinagar centr...
EXPANDING WOMEN'S ECONOMIC OPPORTUNITIES "OUR SHINING STARS" At Sackhumvit centre Chamundinagar, we are helping women from urban rural communities in & around Chamundinagar, Bengaluru through intensive training sessions in hand Embroidery & Saree tassels making, which will lead to sustainable livelihood. We hope to soon see many carefully handcra...
snack distribution - 2018
The good intention of helping the hungry kids get quality food has become a reality in Sackhumvit centre. 200 plus children have daily snacks like milk, juice, biscuits, banana etc all which is safe and standardized. After all who doesnt appreciate variety in food items.